Garr can create custom Digital Paintings for you
Garr will accept commissions to create a digital painting for you from a subject or theme of your choosing, or from one of your favourite photographs. Garr will interpret these to create a unique piece of digital art for you.
The result can be in the form of a digital painting that resembles a traditional acrylic painting reproduced on art canvas, or one that resembles a watercolour painting reproduced on high-quality watercolour paper.
Garr can also reproduce his digital art on ceramic tiles to form a mural you can have installed on an interior or exterior wall. The photo below is an example of a 25-tile exterior mural of his work titled, "The Chameleon & The Rose." This mural is 1.5mW x 1mH (about 60"W x 39"H):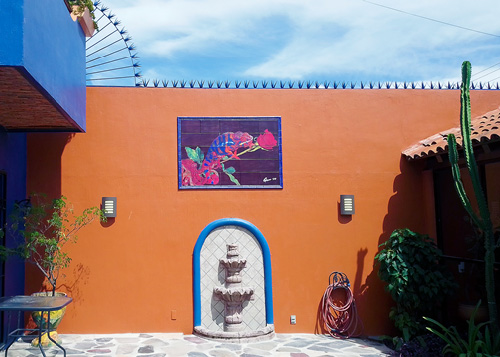 The price of your custom digital work will depend on: the complexity of the concept, the size of the finished piece, and the medium in which it will be reproduced.
Please contact Garr for a quotation Contact Garr