Garr can create custom Digital Paintings for you
Garr (Garry Musgrave) will happily accept commissions to create a custom digital painting for you from a subject or theme of your choosing, or from one of your favourite photographs. Garr will interpret these to create a unique piece of digital art for you.
If you're not familiar with digital painting, you can get more information here: All About Digital Painting.
The result can either be in the form of a digital painting that resembles a traditional acrylic painting reproduced on art canvas (stretched on a wooden frame, or rolled for easier shipping), or one that resembles a watercolour painting reproduced on high-quality watercolour paper.
The price of your custom digital work will depend on: the complexity of the concept, the size of the finished piece, and the medium in which it will be reproduced.
Please contact Garr for a quotation: Get a Quote on Custom Work
Some examples...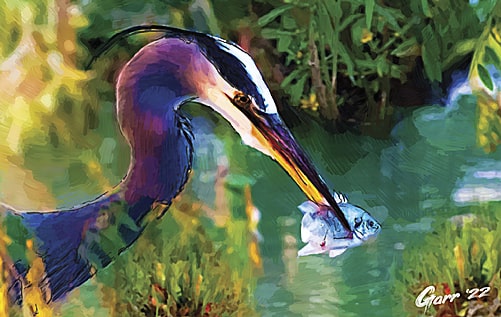 This was Garr's interpretation of a photo submitted by a client. The customer loved the photo, but wanted a painting. Garr changed the background and foreground, eliminated a distracting branch, and then interpreted the Blue Heron and its prey in his unique digital painting style. The client was delighted!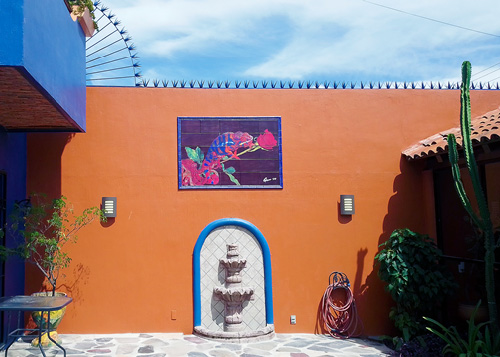 Garr reproduced one of his digital paintings on ceramic tiles to form a mural installed on an exterior wall. The photo on the left shows this 25-tile exterior mural of his work titled, "The Chameleon & The Rose." This mural is 1.5mW x 1mH (about 60"W x 39"H).
Unfortunately, the inks used by the printer who made the tiles did not stand up to sunlight (UV radiation), and faded noticeably after about a year. Garr now only recommends this technique for interior murals.