Garr's Mexican Exhibitions
Because Mexico is Garr's home, the majority of his exhibitions take place in this country. This page lists the most prominent ones.
Lake Chapala Area (Jalisco) — Ongoing
Garr regularly exhibits his work at collective art shows held in the gardens of the Lake Chapala Society (LCS) every October, November, January, February, and March. These consist of both two-day Art Fairs and one-day Art in the Garden Shows. Since 2017, he has co-organised these exhibitions with his wife Danielle Pagé. Each of these shows features more than 60 local artists, and gives a needed location for local Mexican artisans and artists who do not typically have opportunities to sell their art. Profits from the artist participation fees benefit the LCS community outreach programs. In addition, the LCS Children's Art Program sell their art cards featuring the kids' work. This provides important income for the young artists and their families, as well giving them a lesson about the "business of art."
Garr has also exhibited his work at collective shows put on by the Lake Chapala Fine Artists Guild from January through August of 2023.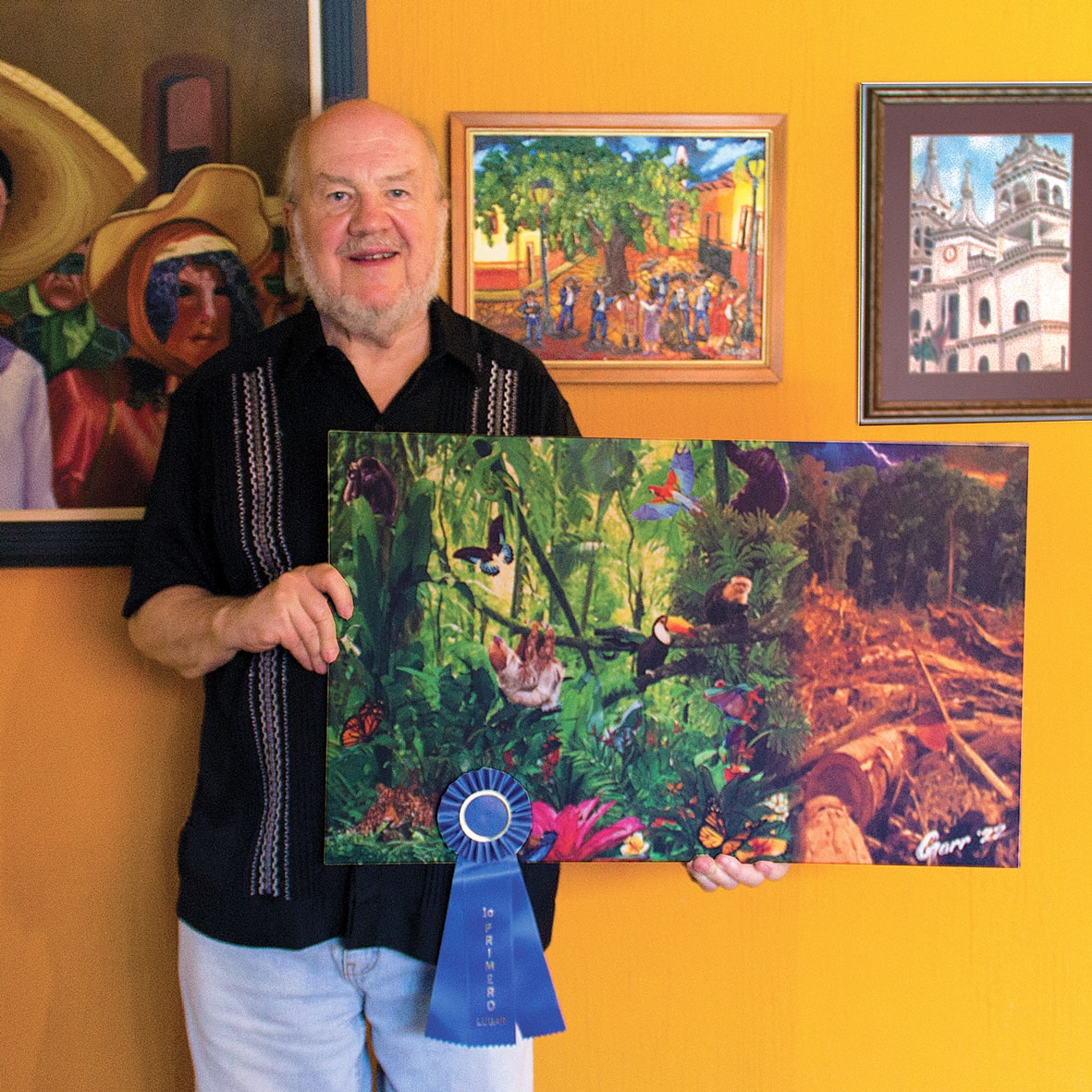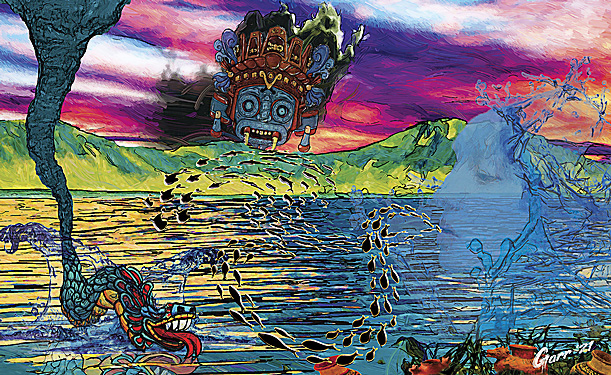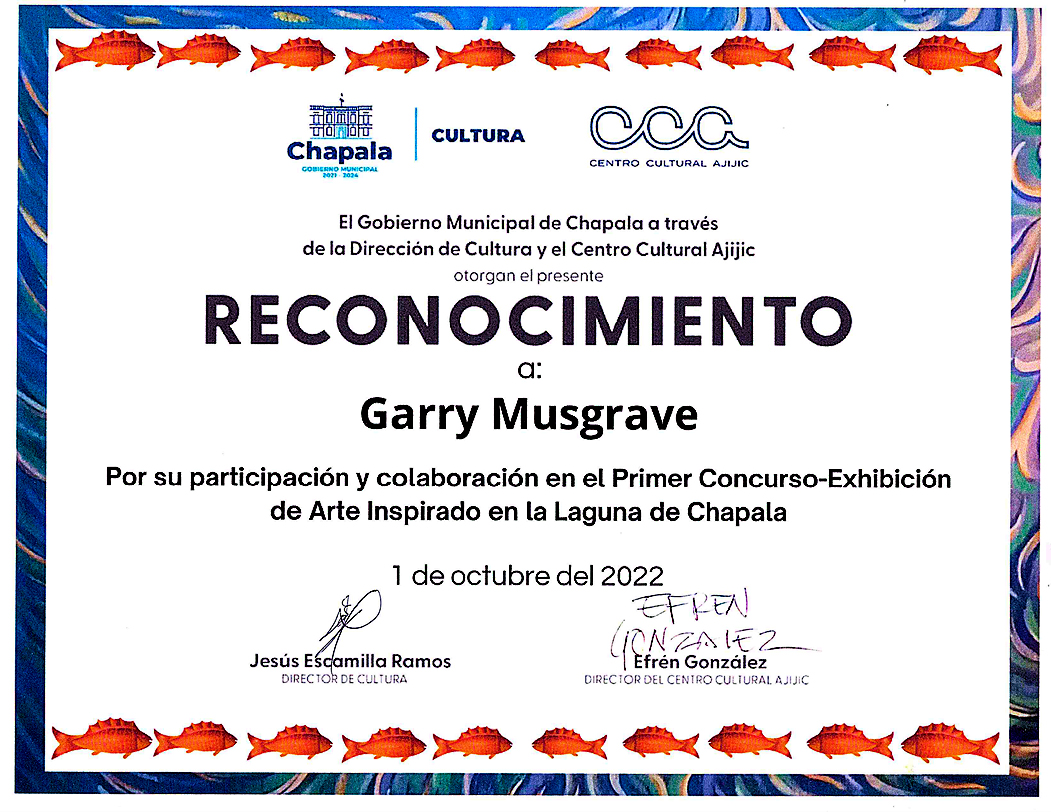 Garr has also shown his work at the Centro Cultural Ajijic (Ajijic Cultural Centre) at several shows from February 2020 onwards. Including:

an April 2022 show by the Ajijic Society of the Arts (now defunct) where he won Best in Medium, and

a contest sponsored by the Municipality of Chapala in October 2022.
Autlán de Navarro (Jalisco)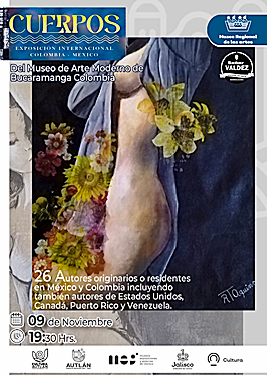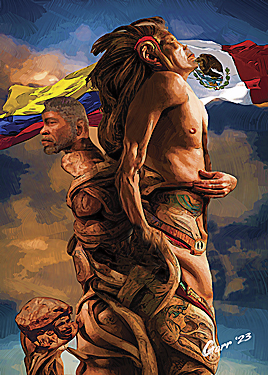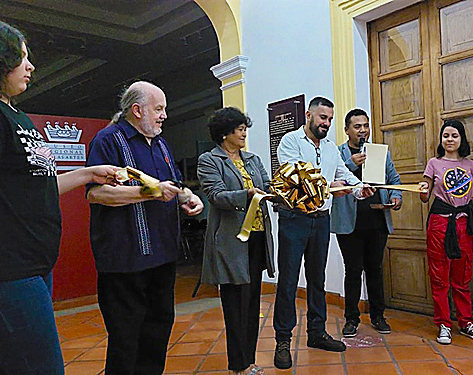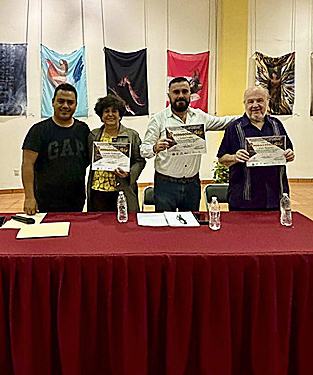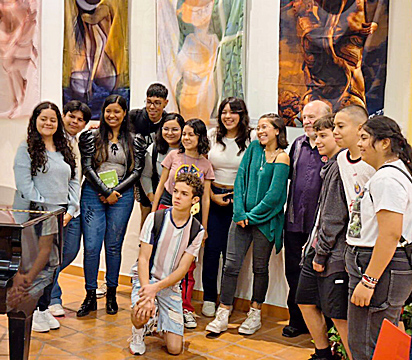 Garr's Speech at the Inauguration
This was the second part of a two-country show that took place in both Colombia and Mexico, featuring 13 artists from each country. The show moved from the Museo de Arte Moderno de Bucaramanga (Bucaramanga Museum of Modern Art) in Colombia to the Museo Regional de las Artes de Autlán (Autlán Regional Museum of the Arts) in Autlán de Navarro, Jalisco. It was sponsored by the Government of Autlán through the Office of Arts and Culture, and was inaugurated on November 8, 2023. Garr was honoured to part of the ribbon-cutting ceremony, and to be asked to speak at the inauguration. It will continue at this venue through to the end of December 2023.

The originals of these works were exhibited in Bucaramanga, Colombia. For this exhibition in Mexico, they were reproduced on large-format cloth from high-resolution photos of the original works — which are still in Colombia, and might soon be exhibited in Bogotá.

The theme of the exhibition was the human body from all its conceptions. From this premise each artist was free to express whatever they wanted: eroticism, beauty, violence, etc.

Garr's piece is titled "Cuerpos cofrades con raíces comunes" (Fraternal Bodies with Common Roots). It depicts the bodies of an indigenous Colombian and an indigenous Mexican (Aztec) intertwining and morphing into tree roots. In the lower left is a turtle (a creation symbol), and the flags of each country are shown behind the respective figures.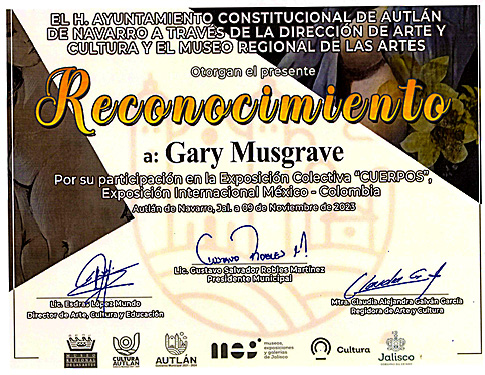 Zapopan (Jalisco)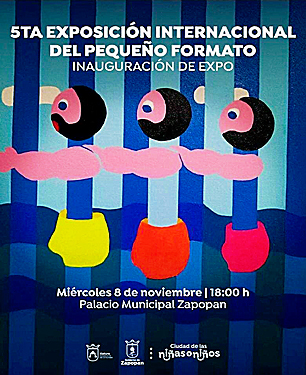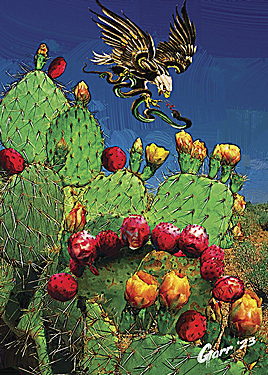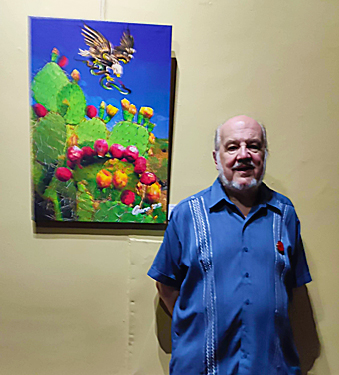 This was the Fifth International Exhibition of Small Format Art held at the Palacio Municipal in Zapopan, Jalisco. It featured artists from 10 countries, the works could be no larger than 100 centimetres (39"), and had to show a unique view of Mexico. The techniques were diverse, as were the individual vision and styles of each of the participants. The more than 30 works included painting, drawing, sculpture, photography, and digital art. The exhibition opened on November 8th, 2023.

Garr's piece, titled "Nopal e identidad mexicana" (Nopal and Mexican identity), featured an iconic symbol of Mexico – the Nopal cactus. It shows an eagle with a snake about to perch. This reflects an Aztec prophecy that established the city of Tenochtitlan (now Mexico City), and forms Mexico's coat of arms. The tunas (cactus fruit) bear the images of Mexican heroes: Emiliano Zapata, Father Miguel Hidalgo, Pancho Villa, and Benito Juárez.