Bailadoras Foclóricas / Folkloric Dancers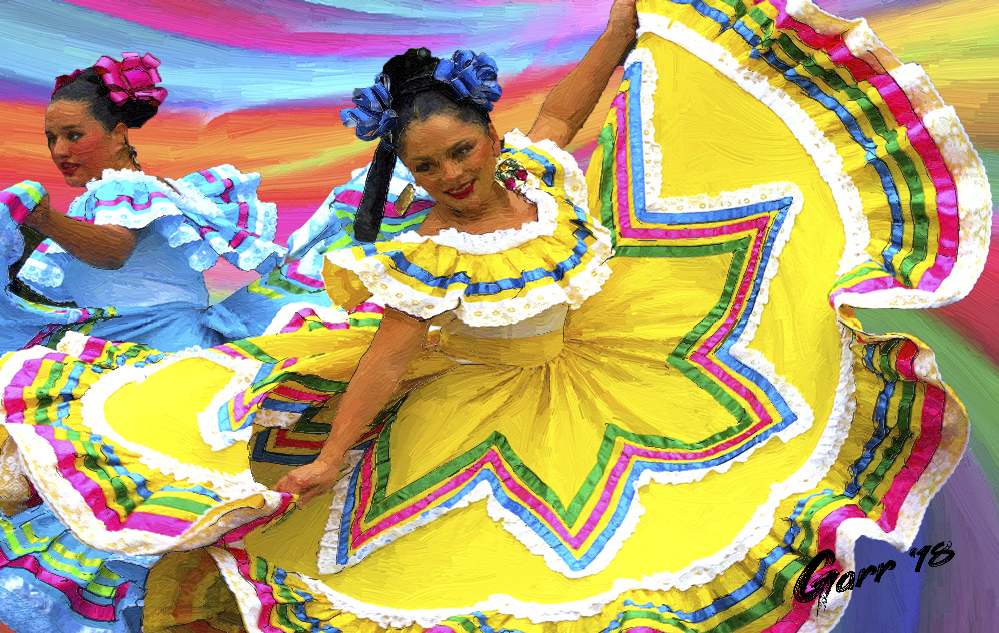 The Specs...
Digital art resembling an acrylic painting, reproduced on gallery-wrapped canvas — Size (W x H): 60cm x 38cm (24in x 15in).
About the Work
"Folkloric Dancing" is traditional Mexican folk dances performed by troupes of costumed dancers. It's a defining element of Mexico's popular culture, both nationally and internationally.
The concept of a folk dance troupe was formalised with the creation of the Ballet Folklórico de México in 1952. Since then, most states, and many large urban centres, have their own troupes. A troupe usually consists of twenty to forty dancers, a mariachi band, and, possibly, other musicians.
Garr was inspired to capture a pair of dancers from a troupe, featuring the folkloric dance costumes typical of the state of Jalisco.
As you look at this digital painting, imagine their flowing, swirling multi-coloured skirts, their stomping feet, and the swaying sounds and rhythms of the Mariachi players.
Garr's Gallery
These are cropped thumbnails, at greatly reduced resolution —
the printed digital art pieces are made from much bigger, and much higher-resolution, files.
All Art
Surrealism
Mexican Mythology
Mexican Life
Nature
Select a category above to see only art of that type
Click on a thumbnail below to expand to a full-image gallery viewer.