Desfile Oaxaqueño / Oaxacan Parade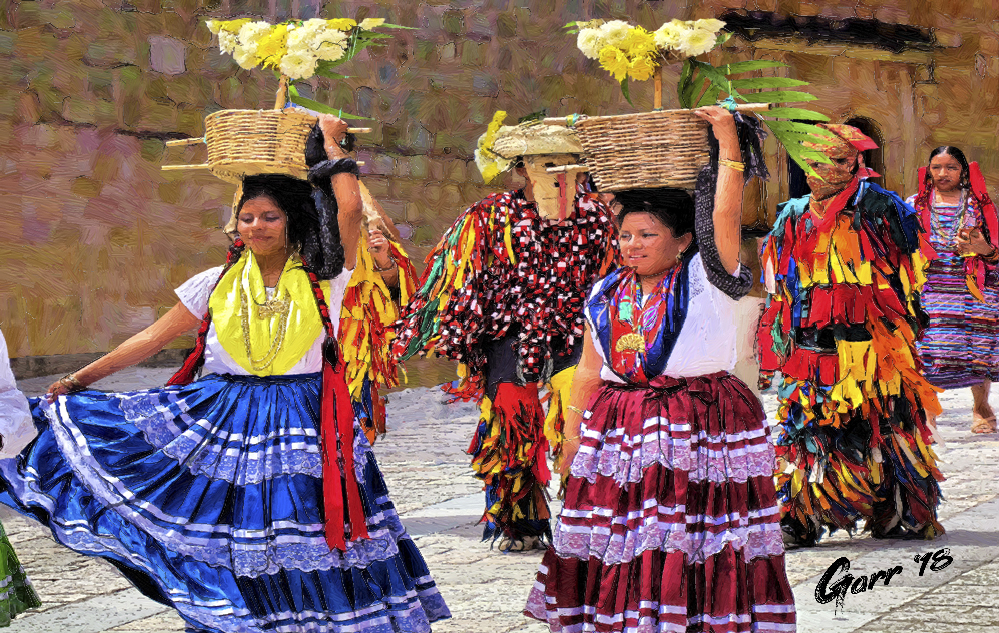 The Specs...
Digital art resembling an acrylic painting, reproduced on gallery-wrapped canvas — Size (W x H): 60cm x 38cm (24in x 15in).
About the Work
Garr has a love of traditional Mexican culture, and has a passion for capturing these images in his digital paintings.
Every summer in the southwestern Mexican city of Oaxaca, the Guelaguetza Fiesta is held. This important indigenous cultural event features musicians, Feather Dancers, Canasta Walkers (depicted here), church and village officials, and children hoisting whimsical animals aloft on poles.
The "Chinas Oaxaqueñas" are the proud hosts of the Fiesta, and their parade announces the start of the Fiesta. This is the group that Garr chose to memorialise in this painting.
These are young women who are selected to carry heavy, ornate baskets on their heads, and parade through the various neighbourhoods of the city. The women are dressed in their traditional costumes: a wide skirt (with satin pleats and Spanish lace), a blouse with special embroidery, and a brightly-coloured scarf. Their hair is braided and intertwined with coloured silk ribbons.
Learning the culture starts at a young age in Oaxaca, and children of three or four years old participate in the parade. They are trained to be faithful to their family traditions, to their Oaxacan essence, and to their neighbourhood, "el barrio de China."
Garr's Gallery
These are cropped thumbnails, at greatly reduced resolution —
the printed digital art pieces are made from much bigger, and much higher-resolution, files.
All Art
Surrealism
Mexican Mythology
Mexican Life
Nature
Select a category above to see only art of that type
Click on a thumbnail below to expand to a full-image gallery viewer.